Our Company, Hirschler Glas Ltd., is active in the automotive industry representing the key segment of our domestic industry. It has been a family-owned business since its foundation. The core of our activities is still the family business, glass industry, the tricks of which have been passed down from generation to generation.
Our company has been dealing with glass and mirror processing since 1899. Since 1970 we have been manufacturing rear-view mirrors exclusively, mainly for commercial vehicles, earth moving machines, motorcycles and to a lesser extent for passenger cars. In addition to the manufacture of mirror plates, die-cast complete mirror heads are increasingly in demand. We are constantly working to make our production more efficient and environment-friendly, while expanding our product range, our partner network, and markets.
Most of our products meeting primary or secondary market requirements are delivered to European markets. Our key customers are leaders in the domestic and international vehicle manufacturing market, representing British, Italian, Belgian, Swedish, German, Dutch, and Hungarian companies, which – like our potential new business partners – regularly perform customer audits at our company. For more than twenty years we have had a strategic partnership with the Orosháza Guardian glass factory, which produces flat glass, the raw material for manufacturing mirrors. Our customer range is constantly being expanded. We have recently been requested to send samples to one of the world's largest mirror assembly firms that is engaged in manufacturing activities in Hungary too, and supplies both international and domestic automobile manufacturers.
Our company is certified ISO 9001: 2009 and specialized automotive ISO / TS 16949 certified. This is audited annually.
The way we work:
Our family business, Hirschler Glas Ltd., is the only one in Hungary that – apart from the production of flat glass, the raw material for the manufacture of mirrors – performs each working process required for the production of finished rear-view mirrors independently, "in-house". One of the keystones of our quality work is to operate with equipment based on the latest technologies. Quality standards of component manufacturing, tight tolerances and specific parameters require the use of high precision glass cutting machines – aided by robot technology and CNC controls.
In our factory processing of flat glass starts with bending in our own furnaces. The bent glass plates are coated with sputtering technology. We are planning to build higher efficiency, lower power and more productive equipment, which can open up new business opportunities.
In our technical developments, which aim to sustainably keep pace with the technological demands of the time, environmental protection, so energy saving and recycling have a high priority. At Hirschler Glas, broken glass and mirror bits, metal and plastic waste is recycled. For water softening we use sustainable ion exchange resin cartridges, without using any sodium hydroxide or hydrochloric acid, thus we can prevent chemical accidents. To further reduce the environmental impacts of our operations, we will replace the hydrocarbon derivative-based mirror paint with an environmentally friendly, water-based paint.
Innovation is often aided by tradition and experience. As the technologies and solutions we use are unusual, special attention is paid to retain experienced technicians. We regularly participate in innovation projects and tenders. Our recent innovation, the anti-reflective glass is a joint development with the Orosháza Guardian glass factory. It significantly reduces the energy demand of any lighting equipment compared to conventional glass. Thus major energy savings can be achieved in the lighting of industrial facilities and in lighting public places.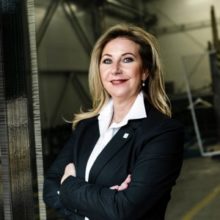 Judit Hirschler
Managing director